Unable to Log-In At All
complete
iPhone user. I upgraded the App on App store. I was having very laggy "Synchronizing Connections" screen to the point where it would just freeze the entire app.
I read that it might be solution to log out and back in. Well, I logged out of account, and now the entire screen is frozen on the "log-in" section. The little red back keeps moving over and over but I cannot get past the main login screen.
Activity
marked this post as
in progress
Merged in a post:
Login Error
iPhone 8 - randomly logged out and now when I try to log in I get error saying: The operation couldn't be completed.(Feeld.LoginError error 1.). Tried uninstalling and still the same error message.
Merged in a post:
Get an error after logging in with facebook
iPhone X. iOS 11.2.1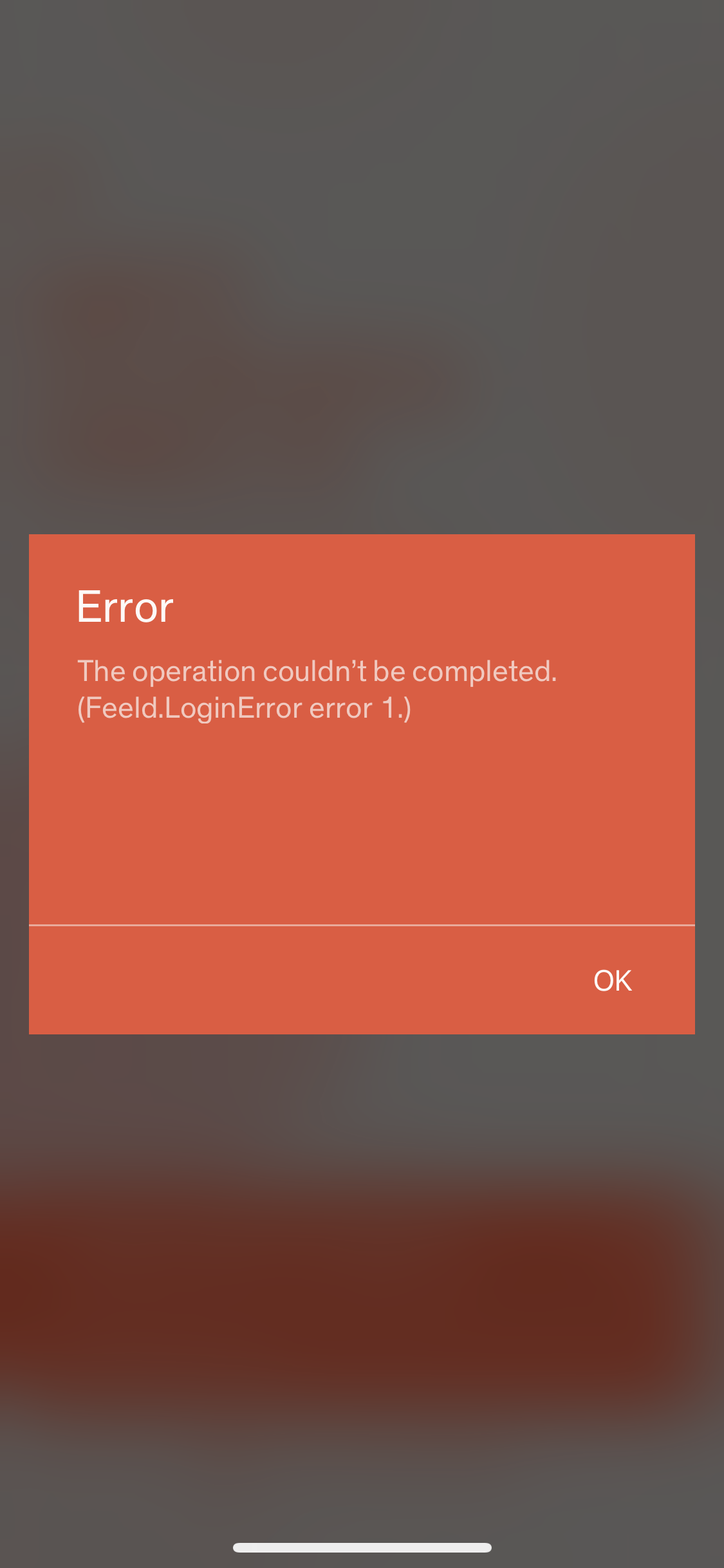 Merged in a post:
I can't log in the app, and I'm still paying my membership. When I try to log in the app, t sends me to connect via Facebook, I do it but then it sends me back to the the starting point.
Merged in a post:
New Update Does NOT fix log in loop
Still same problem with the red back scrolling over and over on "Meet Couples & Singles" screen.
*high five*
Merged in a post:
Won't let me log in after logging in to facebook. It just takes me back to the main page. I don't have multiple facebook accounts and I have tired signing out of facebok. I am really upset because I am paying for a membership and I can't even log in
Merged in a post:
Feb: App keeps buffering no login
I'm on the iPhone 8, app will ask to login and when I do it takes me to the main page and keeps buffering.
Not working.
If anyone wants to chat I'm 6'0 athletic 24. KIK and snap are Cj11carpenter
Forget the app lol
Merged in a post:
Can't sign in
When I try to open the app up it takes me through Facebook to sign in which is normal. Once it goes through this it goes to the start asking me to sign in again through Facebook. An endless loop
Merged in a post:
I been trying for month tried to log in but still not working! And im still payig my member fee
Merged in a post:
iPhone X - Can't Create Account.
Haven't been able to log in since I got the phone months ago.
Merged in a post:
Constantly logs me out
On latest iOS app on latest os. Constantly logged out. Every few times I come back to the app it seems to have logged me out and I have to log back in. Is very annoying. Please fix!
Merged in a post:
Still can't log in
On my iPhone 6 (latest OS), I am still unable to log into Feeld. Feeld is an up to date version. After selecting enable feeld in facebook, the app goes back to the log in screen, and if log in is selected again, the red progress bar moves across the top of the screen, but won't log in. This issue has been ongoing, and has not been fixed in any of the recent updates.
Merged in a post:
Stuck on LOG in screen on iPad 2017
When I try and log into Feeld on my 2017 iPad I'm stuck on the screen that says to log into facebook even after I have logged into Feeld via facebook
Merged in a post:
cannot login
iPhone 6click connect on facebook and nothing happens
marked this post as
complete